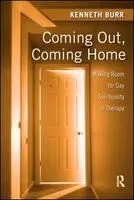 COMING OUT, COMING HOME,
MAKING ROOM FOR GAY SPIRITUALITY IN THERAPY.
by Kenneth Burr, MA, LMFT
A New Book that reveals how persons outside the mainstream are connecting their sexuality and spirituality.
COMING OUT,COMING HOME is a guidebook for increasing the spiritual depth and understanding in our society about the growing spiritual life of gays , lesbians, and bisexuals. This book provides readers a rare opportunity to enlarge their belief systems, and interpretation of Scriptures so they can make room for spirituality that includes homosexuals.
In a recent study, minister, licensed AAMFT therapist and new author, Kenneth Burr conducted heartfelt interviews with sexual minorities who were seeking meaningful connections between their spirituality and sexuality. When asked why he felt compelled to wrie COMING OUT, COMING HOME , Burr states "As I began to collect the sacred stories of people's lives, I felt I was standing on holy ground, and given a gift that had to be passed on to others. Those who shared their stories did so with their blessings and hope that other sexual minorities and their allies might be encouraged to continue to enlarge their spiritual journeys as well."

Although the full title of COMING OUT, COMING HOME implies this was written for therapists and pastoral counselors, it is easily accessible to anyone in the general public who desires to understand gay rights and the many misconceptions of people whose sexuality stands outside the mainstream. GLBT's will find this book to be a source of encouragement as they discover mentoring stories for their own spiritual and emotional growth, and straight allies and parents of gays from conservative religious backgrounds will find new ways to encourage and affirm those they love. Readers often experience something profound in their own spirit as their rigid stereotypes enlarge to find a deeper connection between gays and God.

EARLY REVIEWS

"Kenneth Burr has written a comprehensive, compelling guidebook of immense help to therapists and pastors. One of the great strengths of the book is Burr's own journey to affirming the spiritual wisdom and wholeness of persons with a sexual orientation outside the mainstream. I heartily concur with his conclusion after getting to know such people, that we don't change them; they change us!"
- Donald G. Hanway , Episcopal Priest and former campus pastor, author of A Theology of Gay and Lesbian Inclusion: Love Letters to the Church .


"I found in this book sections that I will recommend to undergrad students who believe themselves to be an abomination, to the chaplain of Religious Life who is struggling with affirmation of queer students, and the staff psychiatrist who is uncertain how to talk about issues of faith with her clients. This book is a very valuable and needed resource. "
- Janie K. Long, Ph D , Director, Center for LGBT Life, Duke University, Durham, NC.


"This book provides considerable information and clarity on a full range of psychological and theological issues including misconceptions about alternative sexual orientations and the so-called scriptural prohibitiions against homosexuality. Counselors and therapists of all persuasions will find it an invaluable reference source. Highly recommended. "
- Len Sperry, MD, PHD , Clinical Professor of Psychiatry, Medical College of Wisconsin, Milwaukee, WI: author, Handbook of Diagnosis and Treatment of DSM-IV TR Personality Disorders, 2nd Edition .


ABOUT THE AUTHOR
Kenneth Burr has a 20 year history of working as an advocate for homosexuals. As a pastor he was involved in AIDS ministries in the early 90's and for the last decade has been a licensed therapist who has developed a specialty in GLBT issues. As an energetic publc speaker he has frequently presented seminars on this topic at the National Conventions of American Asociation of Marriage and Family Therapists. He has earned degrees from Seattle Pacific University, Fuller Theological Seminary and Presbyterian Counseling Services; and is currently an ordained minister in the Association of American Baptist Churches , USA. Burr and his wife have three grown children. They reside in Seattle and currently share their home with Max, the slightly neurotic boxer. Ken is also available for speaking engagements. For more information contact [email protected]


TO ORDER YOUR COPY
I would love for you to order your copy today. It can be ordered through Routledge Mental Health, (paperback) , (hardcover) or Amazon.com .
It will also be available through Elliot Bay Book Company in Seattle, and at most mental health conventions this year. Or you can purchase it directly from me, for $30 plus shippping. (retail $39.95)

TO READ A RELATED ARTICLE I wrote for WAMFT Newsletter, go to, http://www.WAMFT.org , and click on newsletters, you will find it on pages 14,15)

TO SEE A VIDEO ABOUT THIS BOOK , click here! http://www.youtube.com/watch?v=0UhUhUz-EiM

READ AN INTERESTING REVIEW by Toby Johnson of White Crane Publishing, where he says..."It's right that this positive, uplifting, truly "Christian" - that is, Christ-like attitude is what straight people should think about homosexuality.... In the same way Loving Someone Gay became the bible of gay -oriented psychotherapy, Coming Out, Coming Home ought to be such a bible for pastoral counseling...." Read more at
http://tobyjohnson.com/bifurcation.html




SPEAKING ENGAGEMENTS 2009:

May: Adult Education Hour 9:30 am each Sunday, Seattle First Baptist Church. Ken will be leading discussions on his book.


June 14th.
BOOK READING AND SIGNING
12:30 pm, Seattle First Baptist Church, 1111 Harvard Avenue, Seattle.

July 8th
BOOK READING AND SIGNING
7pm Lopez Island Library

July 16th, 2-4pm
SEMINAR; "Coming Out, Coming Home, Making Room for Gay Spirituality" presented to Seventh Day Adventist's GLBT Kinship Kampmeeting, Talaris Conference Center, Seattle, Wa.

September 20th (Sunday)
BOOK READING; Elliott Bay Books, Seattle 4pm.(Free)




October 2; 2:150 pm
SEMINAR, "Gay Spiritualtiy, Making a Difference in Christian Theology." AAMFT Annual Convention, Sacramento California

October 3,
BOOK SIGNING: AAMFT Annual Convention; Sacramento California, at Routledge Sales Booth; Exhibition hall

October 11
Gay Spirituality and the Ministry of Inclusion Part 1
Glorie Dei Lutheran Church, Lynnwood Wa. Adult Ed hour.

October 18,
Gay Spirituality and the Ministry of Inclusion, Part 2
Gloria DeiLutheran Chjurch, Lynwood Wa. Adult Ed hour.

November 6, 9-4pm
Continuing Education class at Antioch University, Seattle
"Making Room for Gay Spirituality When Working with Gay Clients"
Tution required, click on this link for more information http://www.antiochseattle.edu/ce/courses-psychology.html

February 27, 2010
Over the Rainbow Festival, Mt Vernon, Washington