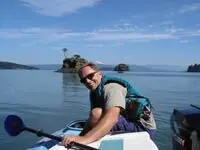 Who am I? Thanks for asking!

I am a Licensed Marriage and Family Therapist specializing in relational issues. I work with individuals, couples and families, viewing them through a Family Systems lens which takes into account the significant relationships in each person's lives. I conduct my private practice in two delightful offices; Seattle's Lake Union, and Issaquah,

I have had a wide variety of life experience that informs my work with clients. I've been involved in the people helping business for nearly 3 decades! My unique insight from years of pastoral ministry, as well as my training and certifications at the local and national level as a Licensed Marriage and Family Therapist (AAMFT) allows me to be known as a "Relationship Expert" who tends to the whole person. I believe that even in our closest relationships, we must connect the dots between the mind, body, emotions, sexualities and spiritualities in order to become fully integrated human beings.

I work a broad spectrum of clients. Among my areas of expertise are couple relationships, helping marriages recover from affairs, and pre marital counseling. I also work through relationship issues with adolescents and their families, and with individuals affected by depression and anxiety. I also help people with a variety of issues surrounding their sexuality and spirituality.

Most people find me warm and very easy to relate to, and appreciate my practical, intuitive, relational approaches to therapy. I will give you support, encouragement and practical feedback to help you resolve the current or long-standing problems in your life. With sensitivity, compassion, and a dose of humor when called for, I can help you find solutions to a wide range of life challenges as well as various spiritual and psychological issues.
blending conventional and alternatives approaches, I draw on a variety of styles and techniques to incorporate what will be most helpful for you. I work with you to develop your strengths as well as to identify and achieve your life goals.

My seminars span many topics.
Yes, I am available for public speaking!. I have presented seminars and workshops at both National AAMFT conferences and to local audiences on topics ranging from "Building a Strong House of Marriage," and "How to Raise Teenagers Without Losing Your Mind," to "Coming Out, Coming Home, Making Room For Gay Spirituality." With a team of colleagues, I also helped develop a model to facilitate discussions on difficult social issues, (such as Gay Marriage and Religion) by adapting the Public Conversations Project for us in several graduate schools and National Conventions.


Education
Post Masters MFT Certification, Presbyterian Counseling Services, 2000
MA, Theology, Fuller Theological Seminary, 1991
BS Biology, Seattle Pacific College 1974

Additional Training
Each year I take many extra educational units to keep up with the changing field of mental health. For instance, I have had additional training in Cognitive Behavioral Therapy for Depression and Anxiety, Internal Family Systems for working with different parts of people's lives, Gottman's Research Based Marriage Therapies, which focuses on relational skill development, Emotionally Focused Therapy to enhance the emotional connections and identify patterns in couples communications, and I am also proficient in several GLBT specialties

Licenses, and Professional Memberships
Licensed Marriage and Family Therapist
Former President for WAMFT Board of Directors http://www.WAMFT.org
Founding Member and Secretary for Family Systems Therapists Northwest (FASTNW)
American Baptist Churches USA, Clergy

A personal word.....
My life journey as a husband ,father, friend, businessman, pastor, and professional therapist has given me many experiences that help me relate well with clients. My natural love of people, travel, humor, compasssion and first rate clinical training have greatly enhanced my ability to find new ways for people to heal old wounds while facing current challenges. I hope to hear from YOU soon!